A material that is homogeneous throughout.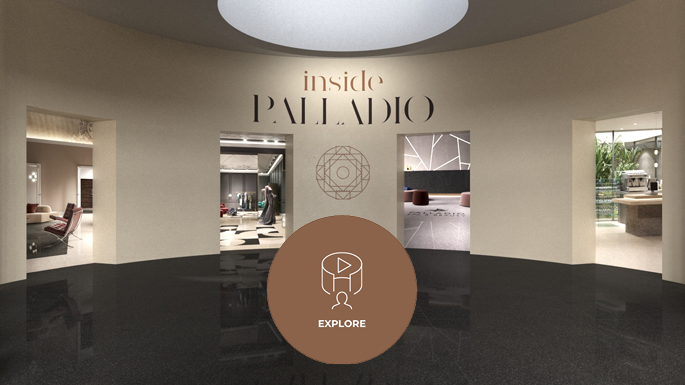 A solid material which makes no distinction between outer surface and core, made with interpenetrating mixes of different colors.
Palladio slabs are made exclusively from prestigious minerals and clays, extracted and worked using sustainable methods. Earth, water and fire: no solvents, resins or chemical additives.
One-of-a-kind production facilities and know-how permit preparation and combination of the extraordinary variety of colored mixes and fragments that go into every Palladio tile.
Multiple colored mixes are randomly blended to create a unique, unrepeatable mix in every slab. A system of patented technologies reproduces the randomness of nature and handmade objects.
Powerful presses compact the slabs; ultra-high firing temperatures irreversibly weld and fuse the minerals to create a new material: hard, compact, impermeable, rock solid.
Every single slab looks different from all the others. The distribution of the colors and grain, random and unrepeatable, composes a harmony with the unique fascination of nature and hand craftsmanship.
Palladio Naturale is made on request* with the exclusive eco-active ACTIVE SURFACES® finish with antibacterial, antiviral and anti-pollutant action.