Maxfine opens new dimensions for contemporary architecture because it combines low thickness with large formats, guaranteeing high technical performances, a lower load on the floors, and an aesthetic quality never seen before. The slabs, which can be laid with a minimum joint, enhance the rooms with unique effects of visual continuity.
Handling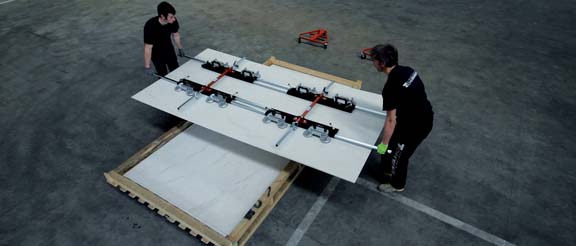 Handling and storage
For the correct handling of the pallets, a fork lift truck must be used, at least 2.5 m long, with the forks positioned in the maximum width position. Under normal conditions, the forks are positioned in the middle of the long side of the pallet, as they must grip the whole depth of the pallet. To allow the extraction of the slabs easily and safely, it is recommended to position the pallets in a suitable areawhere the lift truck can be moved around all sides of the pallet.For manual handling and subsequent laying of the slabs, in order to guarantee the operators' safety and the integrity of the slabs, it is strongly recommended to use a frame with suction cups, available upon request, particularly suitable for large dimension formats (e.g. 300x150 cm - 150x150 cm) whereas on smaller formats (e.g. 150x75 cm) two double suction cups are sufficient.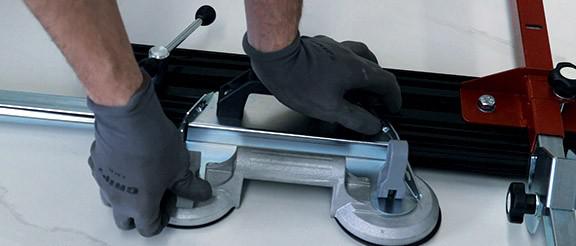 Instruments required
The instruments for lifting and handling the slabs can be chosen according to the size of the slab and the activities to be performed on the site, in particular:

- Fork lift truck with forks 2.5 m long;
- Frame with suction cups for handling large format slabs;
- Double suction cups for handling slabs with format up to 150x75 cm.
Cutting and Holes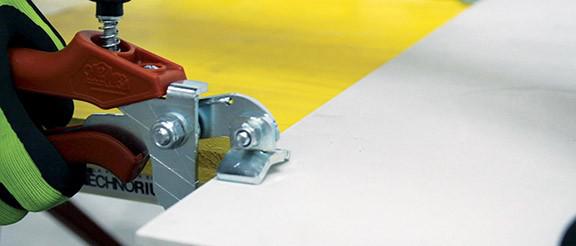 Easy to work with
Maxfine can be easily processed by using some simple tools.It is recommended to process the slabs on a flat work surface, at least 5 cm longer than the slab from each side or double suction cup.It is recommended to perform the cutting operations with at least two operators. One operator is sufficient for making the holes.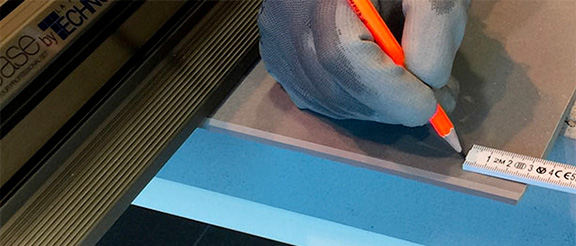 Instruments required
Depending on the type of cut and process to be applied to the slab, the recommended types of tools are listed below:- Handling frame with suction cups or double suction cups;
- Cutting guide with cutting carriage for linear cuts of 150/300 cm;
- Cutting pliers;
- Wet core bits;
- Angle grinder with diamond blade;
- Diamond buffer.