Special Pieces and Decorations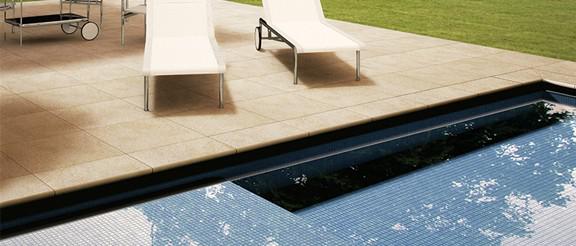 Pool Edges
The design of wellness premises has encouraged FMG's creativity to range beyond the mere floor or wall covering, also creating various types of edging tiles for baths, swimming-pools and wellness centre rooms.
FMG porcelain slabs are often used for the design of wellness centres, swimming-pools and areas constantly in contact with the water. This is thanks not only to their technical properties of frost-resistance and non-absorbency of liquids, but also to the versatility provided by the shaping of the slabs.
Waterjet
The waterjet engraving technique combines with the FMG designers' creativity to form a tool with vast potential for giving added value to any project.
The personalised shapes, combined with the exclusive character of the FMG materials, makes it possible to interpret any theme within an installation or project. Styles, colours, contrasts and shading transform architects' ideas into reality under the eyes of the new building's future users.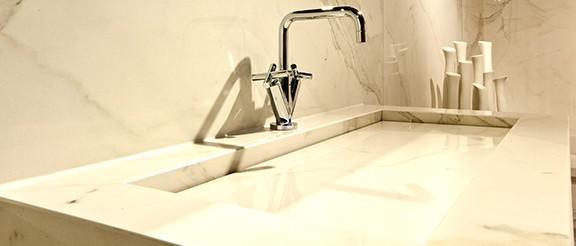 Washbasin Tops
Its experience acquired in the shaping of slabs and studies on thicknesses have enabled FMG to move beyond the mere production of floor and wall coverings and take on new design challenges.
From producing simple combinations of floor and wall slabs, FMG Fabbrica Marmi e Graniti has progressed to the design of washbasins, washbasin tops and bathroom furniture, with elegant thicknesses, rounded edges and edgings, ideal for finishing the sophisticated interiors of hotels and the contract sector.
FMG washbasin tops are made entirely from manufactured marble, stone, granite and travertine, and are used for the realisation of interior designs for hotels and wellness centres, thanks to the technical qualities of porcelain tile, which allows its use even in positions constantly in contact with water and other liquids.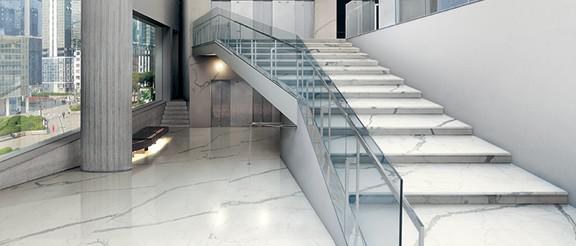 Staircases and Steps
When designing indoor and outdoor projects, it is becoming increasingly necessary to provide uniformity of coverings across the various rooms, for reasons not only of elegance but also of practical convenience.
When designing marble staircases and stone steps, particular attention has to be paid to the finishes, in terms of both surfaces and design structure. Corners and risers are fundamental, rounding of edges is crucial, and the appearance of a flight of steps is key to a project.
FMG has developed various types of steps tiles, with different surface finishes, to meet individual design requirements.
From the initial concept of laying two slabs with sharp edges at 90°, new solutions have been evolved with new angles and new finishes, and new production solutions have been developed to offer the architect an array of choices in terms of both appearance and technical-construction features.