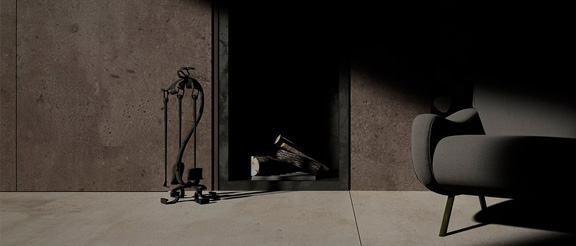 Large Maxfine slabs only 6 mm thick combine the look of natural materials with an advanced, innovative technology. This winning combination is a true bestseller from a company that creates surfaces with outstanding technical qualities.
Waterproof and resistant to scratching, wear and aggressive chemicals, MaxFine slabs are tangible evidence of the material's versatility and vast expressive potential.
The perfect tool for architects and designers, MaxFine's vast range offers plenty of possibilities for indoor and outdoor applications, ranging from traditional floor and wall coverings to applications in the furniture industry.Low thickness, light weight and ductility make the MaxFine collection a second skin perfect for covering tables, cabinets, kitchen countertops and cabinets, shower trays and sinks.
White Calacatta
Offering exceptionally high performance in terms of hygiene, durability and hardness, White Calacatta MaxFine Marmi covers the wall of the shower and the base of the washbasin. Imposing greyish beige veins run over the crystalline white background of the slabs to create a continuous pattern that underlines and emphasises volumes. The many versions of MaxFine slabs offer designers and architects the utmost expressive freedom for creation of total look solutions successfully combining aesthetics, technology and practicality.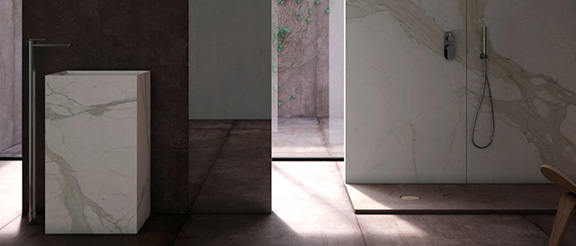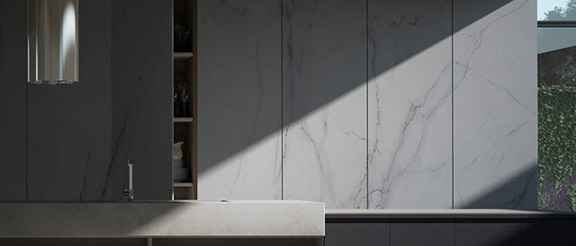 Statuario Light
Irregular fine veins elegantly cover this large cabinet to create a refined dark grey pattern over a lighter background. The pattern appearing in Statuario Light is continually reproduced for a realistic look and feel. Their thinness, light weight and easy handling make MaxFine slabs ideal for covering tables, doors, wardrobes, chairs and bathroom furnishings.
the collection Citystone
The Citystone collection, available in 4 colours, is perfect for covering outdoor areas, a contemporary version of the pure, authentic look of stone. The natural finish with its blemishes, hues and surface irregularities underlines the beauty of simple things and the love of detail. Exceptionally compact and unalterable, Citystone withstands encrustations, damp, heat and flame, remaining unaltered in appearance and offering maximum versatility for different applications.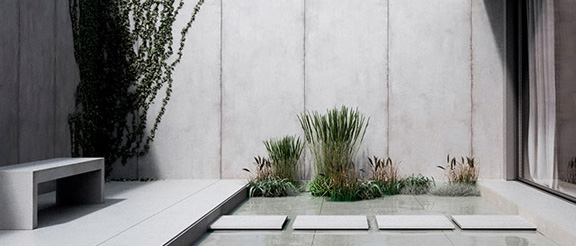 ---


Airports, commercial spaces, hotels and business hubs dialogue in harmony with the MaxFine large technical ceramic slabs from FMG Fabbrica Marmi e Graniti. The ideal solution for settings with high trampling and dense traffic, MaxFine provides a continuous covering for large spaces, creating homogeneous environments where each individual area is shown off and made unique.
The wealth of material effects offered and an advanced customisation service permit complete personalisation, specially designed to meet the specific requirements of the client.
Each material is a prototype of beauty and technology: marble, onyx, metal, stone, cement.
The high technical performance, in combination with a thickness of just 6 mm, facilitate the transport and installation of the slabs, guaranteeing strength and durability as well as simple maintenance and easy cleaning.
MaxFine enhances environments, be they residential or commercial, bringing high quality and aesthetic standards together with great capacity for innovation, to respond promptly and effectively to the requirements of today's professionals and consumers.