The Showroom at the heart of FMG Fabbrica Marmi e Graniti.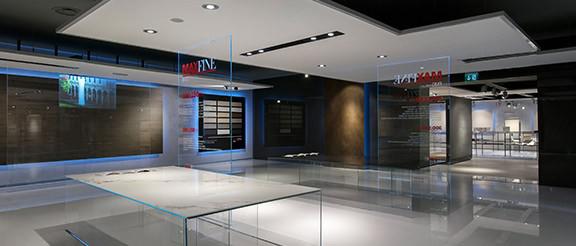 Stone, Glass and Light
The concept is based on the fusion of the project's three key constituent elements: the strength of manufactured stone, the subtle transparency of glass and the diffusion of light. This combination has resulted in an unconventional type of display that is immediately striking, comprising large-sized vertical panels in which ceramic products are highlighted by glass surrounds that function as communication panels, designed to that frame and explain the ceramic products through images, text and led lighting.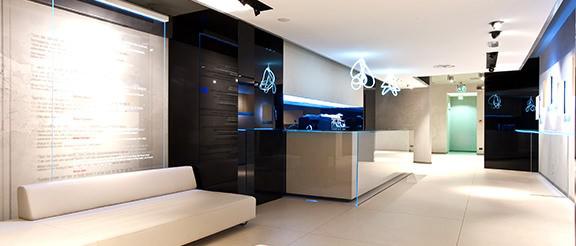 Design and Sustainability
The showroom is as open-plan as possible in order to invest the area with a distinct design unity, zoning the various thematic areas with the use of the glass display walls and partition walls. The showroom also features interactive panels plus video communication and touchscreen areas, allowing visitors to experiment with a sophisticated design tool. Project sustainability is optimized by the use of low-energy light sources with the use of LED lighting systems for general lighting too.
Opening hours to the public
Monday-Friday 8.30 a.m. - 12.30 p.m. | 2.30 p.m. - 6.30 p.m.
Saturday 9.00 a.m. - 5.00 p.m.
Phone +39 0536 862 340 / +39 0536 862 341
Gallery Showroom FMG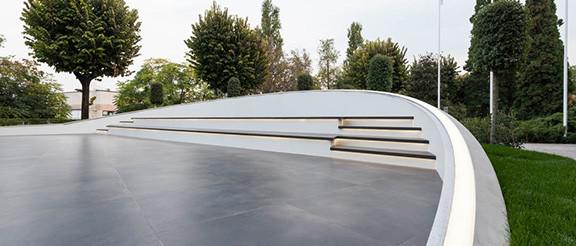 The exterior areas of the FMG showroom
FMG has commissioned the architect Massimo Iosa Ghini to redesign the exterior areas overlooking the entrance to the Group's showroom and offices in Via Ghiarola Nuova, in Fiorano Modenese.The design concept comes from the need for a connection between the exterior and interior part of the site, in order to take the showroom outdoors. The "starchitect" Iosa Ghini has made this connection through the extension, beyond the showroom entrance, of the trajectory described by the line of floor lighting already installed inside the showroom.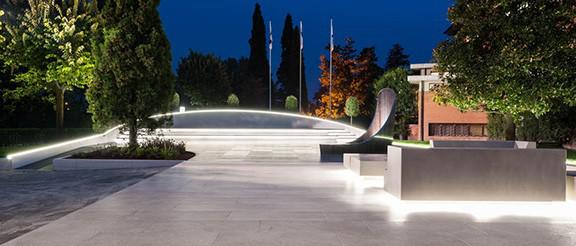 Linea di luce
Once outside, this line of light describes a curved path that encloses an area equipped for events. The line of light becomes a connecting element between "inside" and "outside" and, at the same time, a separating entity between the materials since different types of paving and vegetation alternate along its entire length.The area is designed to be used in the different configurations, from organised events to daily use as an outdoor extension. The design also includes seating elements and installations which, by exploiting the potential of the various technical ceramic coatings, enrich and complete the outdoor exposition. The sustainability of the design is optimised by the use of low energy light sources, with LED systems.
Linea di Luce by Massimo Iosa Ghini